Our Review of Palmer's Massage Lotion For Stretch Marks
Busy?
Here's Your Fast Break Down
Palmer's Massage Lotion for Stretch Marks is the number one bestseller on Amazon in Maternity Skin Care. This body lotion free of mineral oils, parabens, and phthalates is dermatologist approved, hypoallergenic, and safe for pregnant and breastfeeding women. 
Reviewers say it works well to prevent the formation of new stretch marks but is not the best for fading existing marks. The product contains many natural butters and oils, vitamin e, and lutein all ingredients that offer benefits such as moisture retention, assist in skin elasticity, increase suppleness while improving texture and tone.    
In an in-home study of over 100 women, 98% claimed improved skin elasticity, and others not part of the trial rave about how it keeps their skin moisturized for an incredible 48 hours. The formula has been described as fairly thick taking time to absorb into the skin and it should be tested on a small patch as some have broken out in a rash. 
It can be used on all parts of the body and was created for all skin types helping with many kinds of stretch marks including those from weight fluctuation. The cocoa butter formula has a pleasant aroma but some pregnant users did complain it was overwhelming for their sensitive noses. 
RewindGuide's Best Stretch Mark Creams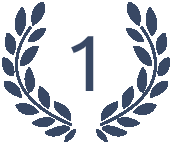 Maely's B FLAT Cream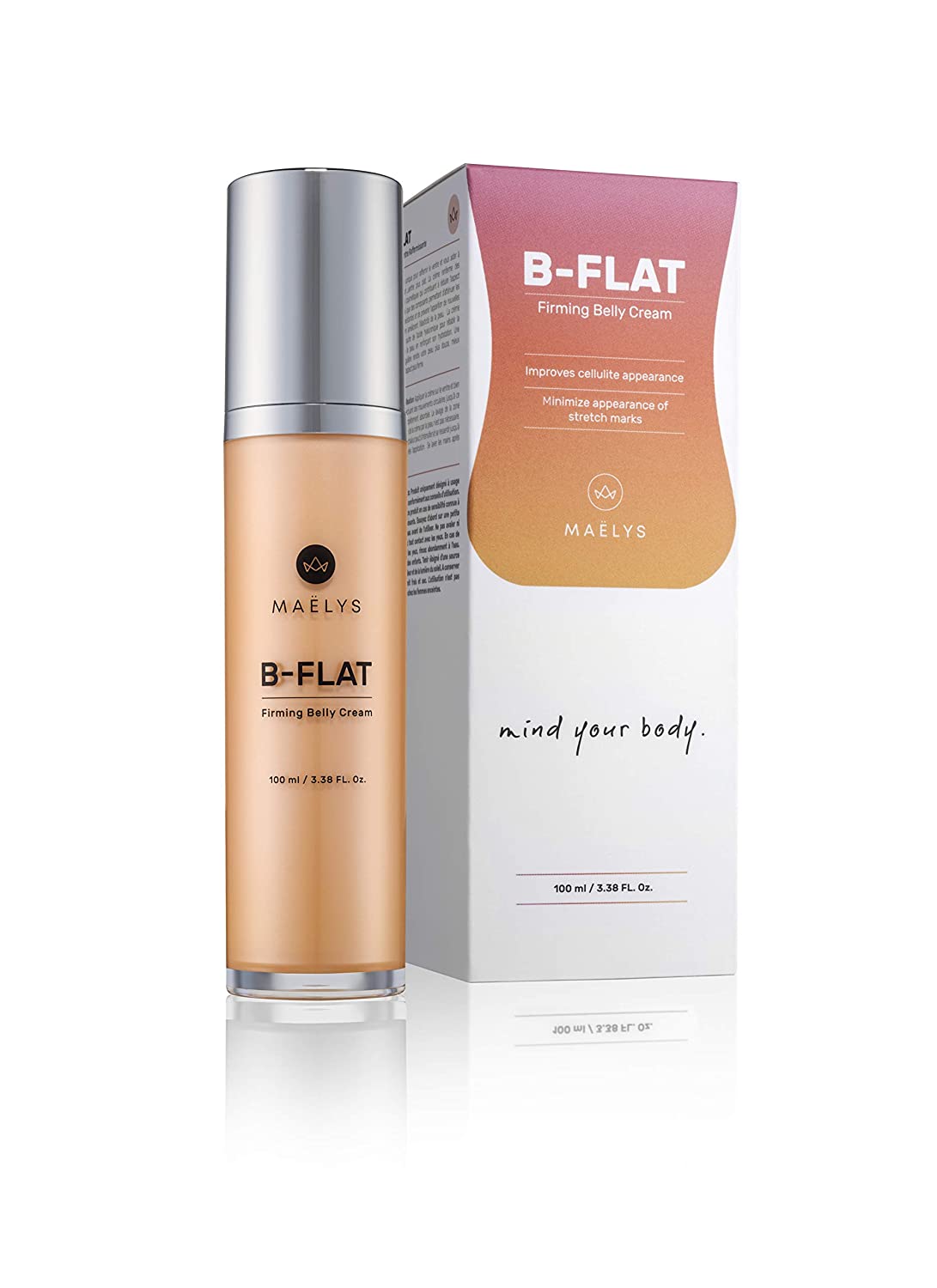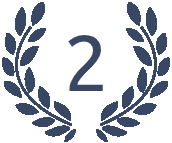 Palmer's
Massage Lotion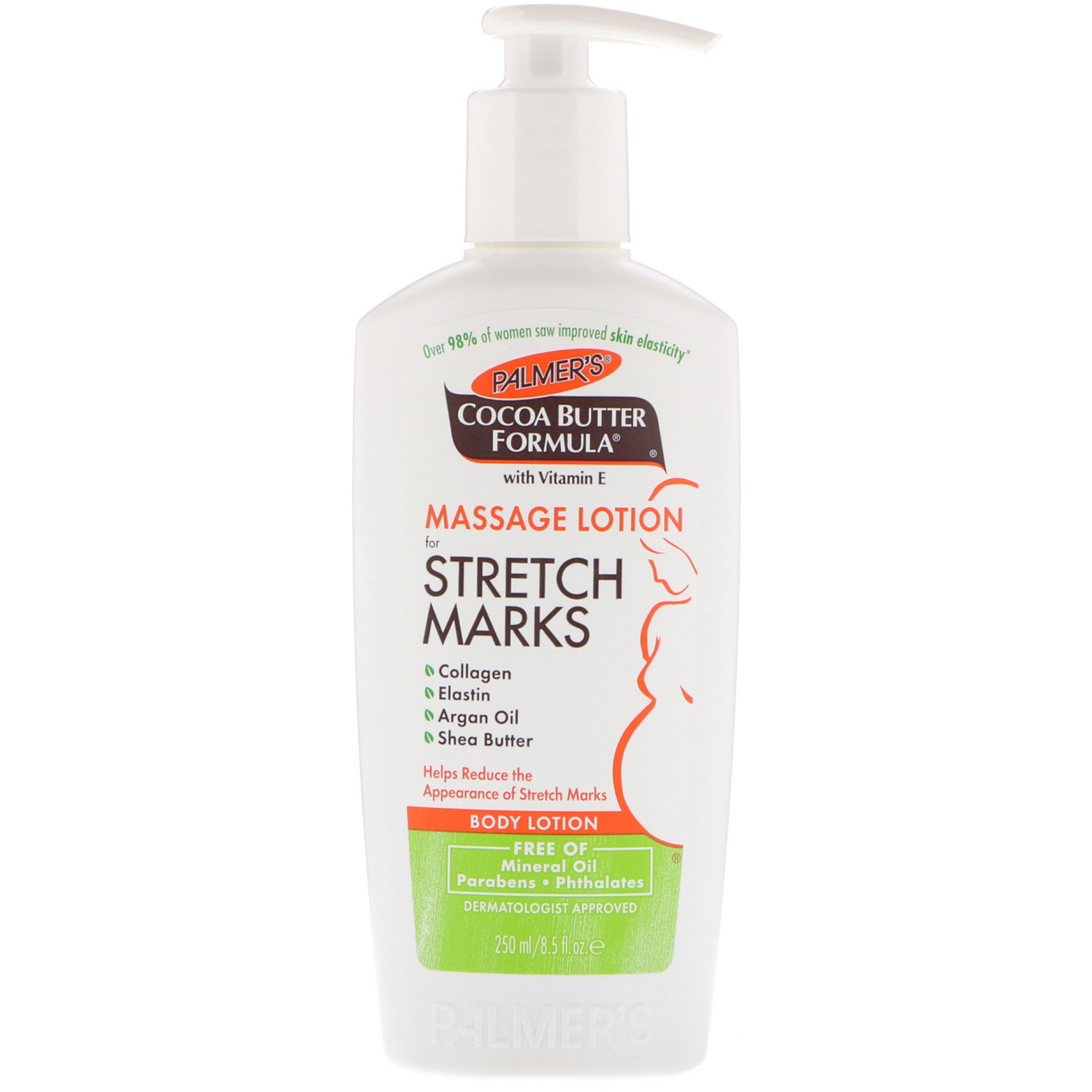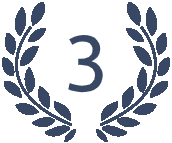 Bio-Oil's
Skincare Oil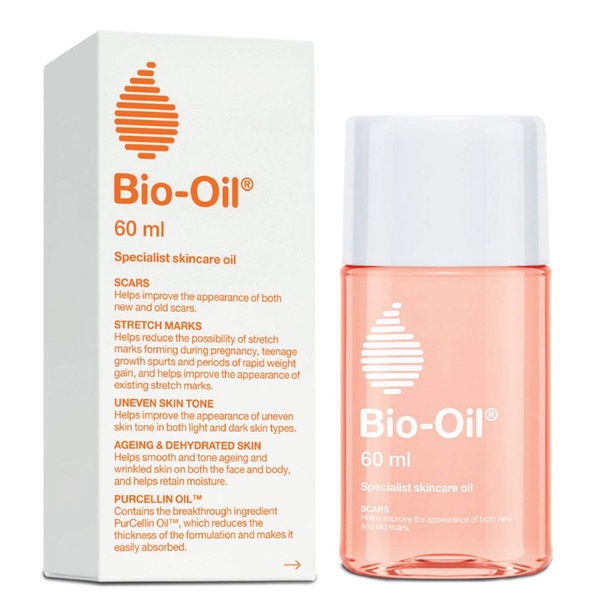 What is Palmer's Massage Lotion for Stretch Marks? 
Palmer's Massage Lotion for Stretch Marks is a cocoa butter formula that helps to increase skin elasticity by moisturizing, softening, and conditioning the skin to deter the formation of stretch marks.  Great for stretch marks caused by weight fluctuations or pregnancy, the highly beneficial formula is packed with natural vitamins and nutrients to leave you looking and feeling your best! 
The Palmer Promise
The Palmer line consists of multiple products for all your cream needs, helping solve moisture issues for everything from your skin to your hair, lips, and more. They offer products for men, women, and children in a large variety of formulas including cocoa butter-based, coconut oil-based, olive oil-based,  shea butter-based, and even a manuka formula. 
Regardless of your skin type or needs, they have a product for you. All Palmer products are made with only the finest ingredients and the majority of them are hypoallergenic, paraben, phthalate, and mineral oil-free – as well as dermatologist approved.  
Palmer's Cocoa Butter Formula Massage Cream for Stretch Marks Details
Their Cocoa Butter Formula for Stretch Marks is sold in a 4.4 oz (125 g) container for $8.83. It is available through the Palmer website, Amazon and Walmart.
Palmer Components 
Palmer's Massage Lotion for Stretch Marks is a cocoa butter based formula using a non-greasy base. Consisting of shea butter, collagen, elastin, lutein, and natural oils to keep skin elastic and moisturized up to 48 hours.
The 9 Natural Ingredients Making a Difference
Cocoa Butter –

rich in natural plant compounds, cocoa butter leaves a layer of protection to lock in moisture, increase blood flow, softens the skin to accommodate that belly bump as well as providing protection against UV rays and helping with anti-aging 

Shea Butter –

another natural plant compound, shea butter contains high concentrations of fatty acids with anti-inflammatory and healing properties helping to tone and smooth out the skin 

Vitamin E –

protects the skin from damage caused by free radicals and UV rays, this antioxidant helps to nourish your skin 

Lutein –

an antioxidant, Lutein assists with protecting the skin from environmental harms while moisturizing and supporting skin elasticity   

Collagen –

a natural skin strengthener, collagen is produced by the body to hydrate and elasticize the skin reducing the formation of wrinkles and locking in moisture

Elastin –

gives skin its elastic abilities and assists in a tighter appearance to help with firmness, tone, and smoothness

Argan Oil – 

Helping to minimize the tone and visibility of scars, Argan oil, nourishes and softens the skin as it is filled with fatty acids, minerals, and vitamins 

Almond Oil –

is an almond extract and antioxidant that helps to hydrate the skin while offering Vitamin E and omega-3 fatty acids 

Coconut Oil –

Loaded with fatty acids, this naturally occurring oil is widely known for its moisturizing abilities to help keep skin healthy and supple   
Palmer's Massage Lotion For Stretch Marks Guarantees
Hypoallergenic 

Paraben-Free

Phthalate Free

Free of Mineral Oil 

Dermatologist Approved

Safe for Pregnant and Breastfeeding Mothers 

Cruelty-Free: does not conduct product tests on animals   
Palmer's Massage Lotion For Stretch Marks Directions
Created for twice-daily use, morning and evening. Apply the lotion all over the skin with an emphasis on stretch mark prone areas including your tummy, thighs, chest and hips. Use liberally on all areas of the body and massage until fully absorbed. 
How does Palmer's Massage Lotion For Stretch Marks work? 
Palmer's lotion is packed with hydrating, skin-boosting, and repairing ingredients to assist in lightening the appearance of stretch marks, increasing elasticity, and improving skin texture and tone.     
How long until I see results?
Palmer's Massage Lotion For Stretch Marks should be used throughout pregnancy to help with skin elasticity. Some have seen results in as early as two weeks from using the product while others claim at least 2 months is required. The moisturizing benefits are felt instantly and last for a full 48 hours.  
Does Palmer's Massage Lotion For Stretch Marks really work?
The Palmer's Brand is known for its many all natural, creams and lotions for your whole body. Their Stretch Marks Lotion is Dermatologist Approved and over 98% of women saw improvements in skin elasticity, texture, and tone in an 8-week in-home trial. 76% of Amazon reviews rate the product at 5 stars – higher than the industry average. They offer full refunds of the purchase price if you are not completely satisfied. Palmer's claims to be the #1 Stretch Marks Brand in the US.  
What benefits does Palmer's Massage Lotion For Stretch Marks provide?   
Palmer's Massage Lotion For Stretch Marks assist in moisturizing the skin while increasing elasticity to help deter the formation of new marks while improving tone and texture. It enhances suppleness and is hailed for its longevity and softness. It is not known for helping with old markings or reducing their appearance but has high ratings for deterring the formation of new markings whether from pregnancy or weight fluctuations.  
Is Palmer's Stretch Mark Lotion suitable for all skin types?
Due to the lotion's lightweight, natural formula, it is suitable for all skin types including sensitive skin and is even safe for pregnant and breastfeeding women. Due to the large concentrations of natural oils such as coconut, argan, and almond oil, those with oily skin or acne from pregnancy mentioned it did make their breakouts worse regardless of its dermatologist approval. It can be used all over the body in all stretch mark prone areas from the upper chest to below the bum and on hips and thighs. 
What are the users of Palmer's Massage Lotion For Stretch Marks saying?
Reviews for Palmer's massage lotion love the product for its price point, bottle size, and multiple uses. It is hailed for its ability to combat the creation of new scars while keeping skin moist for a crazy 48 hours. Those with existing stretch marks are not huge fans of the fact it does almost nothing on old stretch marks and does not reduce the appearance nor the feel. The scent is loved by many however some pregnant women claim their sensitive noses could not handle the scent. Another interesting factor is some people who had ordered through Amazon, and had purchased the product before, believed they had gotten a different version that did not smell the same (in some cases it smelled like plastic) and was of much lesser quality.  
I obtained stretch marks due to gaining around 50 pounds in two semesters of college. I tried a ton of different products trying to find something that would fade the appearance of my stretch marks, after months of no success I finally tried Palmer's, and within a week and a half I noticed results.
Tamari
This cream was the only thing that could keep my belly from splitting when I was pregnant with twins. Used at least twice a day when very pregnant, it worked wonders and was about the only thing I could tolerate on my even more sensitive pregnant skin. I also used other Palmer's products but liked this one best because the chocolate smell of the others got to me after a while (pregnancy sensitivities). This cream feels and smells nice and fresh and goes on super smoothly. Definitely a repeat for the rest of time!
Jennifer
I use this all over my body for stretch marks and moisture and I love how long-lasting it is. Extremely moisturizing and very thick. My only complaint is that it doesn't really have a scent and I'm looking for that luscious cocoa butter bod!
Rachel/h4>
Pro's
Works well to deter forming stretch marks

Hydrates skin for 48 hours 

Safe for pregnant and breastfeeding women

Helps with pregnancy itch   

Can be used by all skin types

May be applied to all body parts

Dermatologist Approved

Fully refundable 

Well priced
Con's
Clumpy, thick, flaky  formula

Does not work on existing/old stretch marks

Can cause breakouts or make acne worse

May cause rashes 

Smell and formula inconsistencies 
SO IS IT REALLY WORTH THE HYPE?
Palmer's Massage Lotion For Stretch Marks Cream is hailed by over 70% of users. It is the #1 best seller for maternity skincare on amazon and is suitable for sensitive skin as well. The lotion helps to reduce the appearance of stretch marks and has the ability to keep your skin hydrated and moisturized for up to 48 hours. 
It can be used on the entire body from below the neck to down the thighs making it an easy go-to. For pregnant women, it truly helped with the baby bump itch but some claim the smell can be difficult to handle with pregnancy sensitivity. 
The bottle is fairly large compared to other lotions of this nature and the cost is reasonable in regards to alternatives. The one issue seems to be consistency – either Palmer's changed their formula or the amazon supplier is different from the original. Reviewers are trying to get to the bottom of this – with some claiming they just plan to grab the lotion at a retail store versus online and others swearing the formula has completely changed from the company itself.
Buy Now on Official Website
buy now

Buy Now On Official Website
RewindGuide's Best Stretch Mark Creams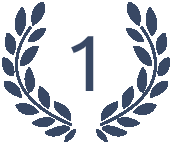 Maely's B FLAT Cream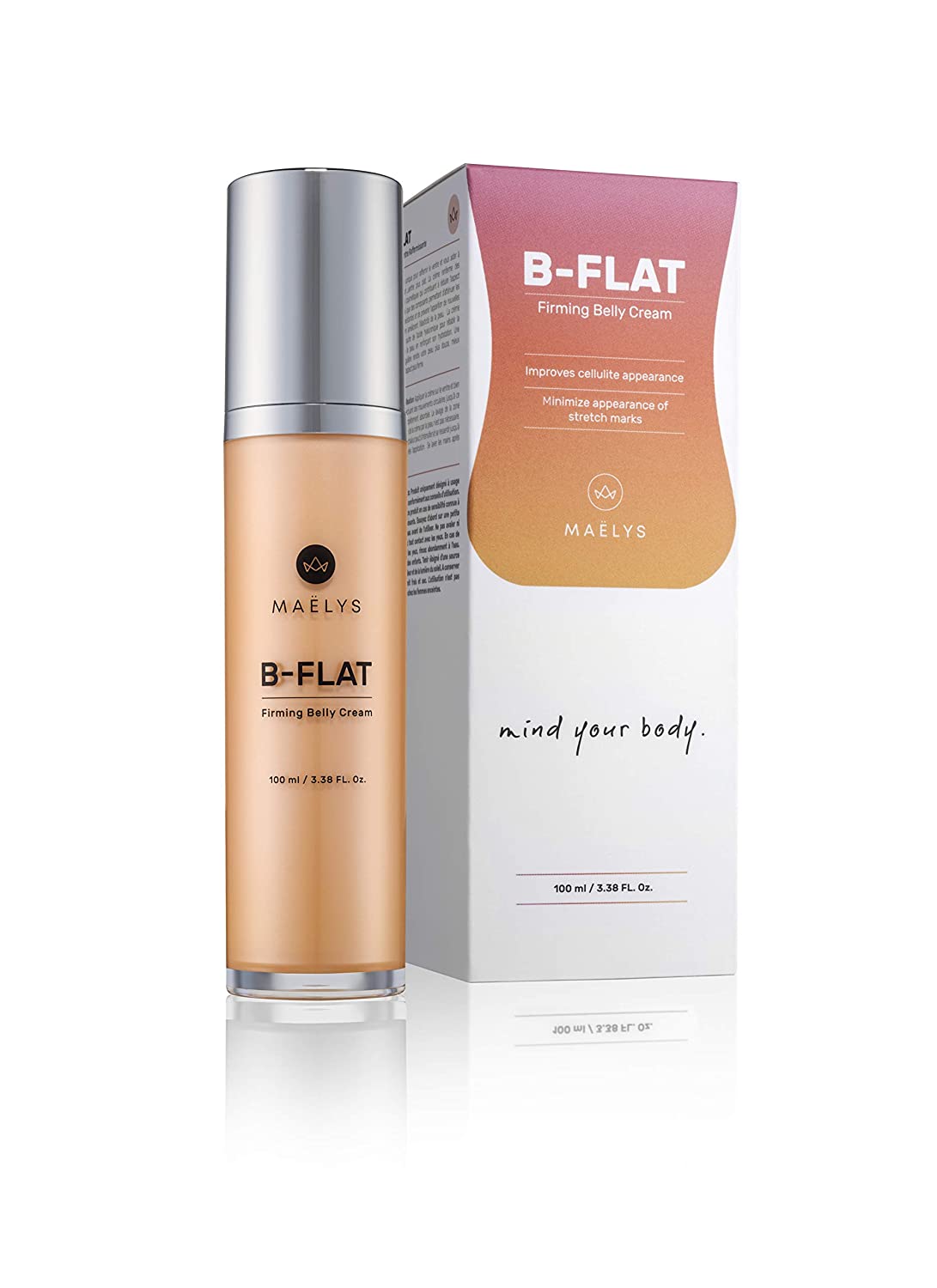 Read review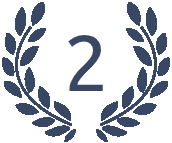 Palmer's Massage Lotion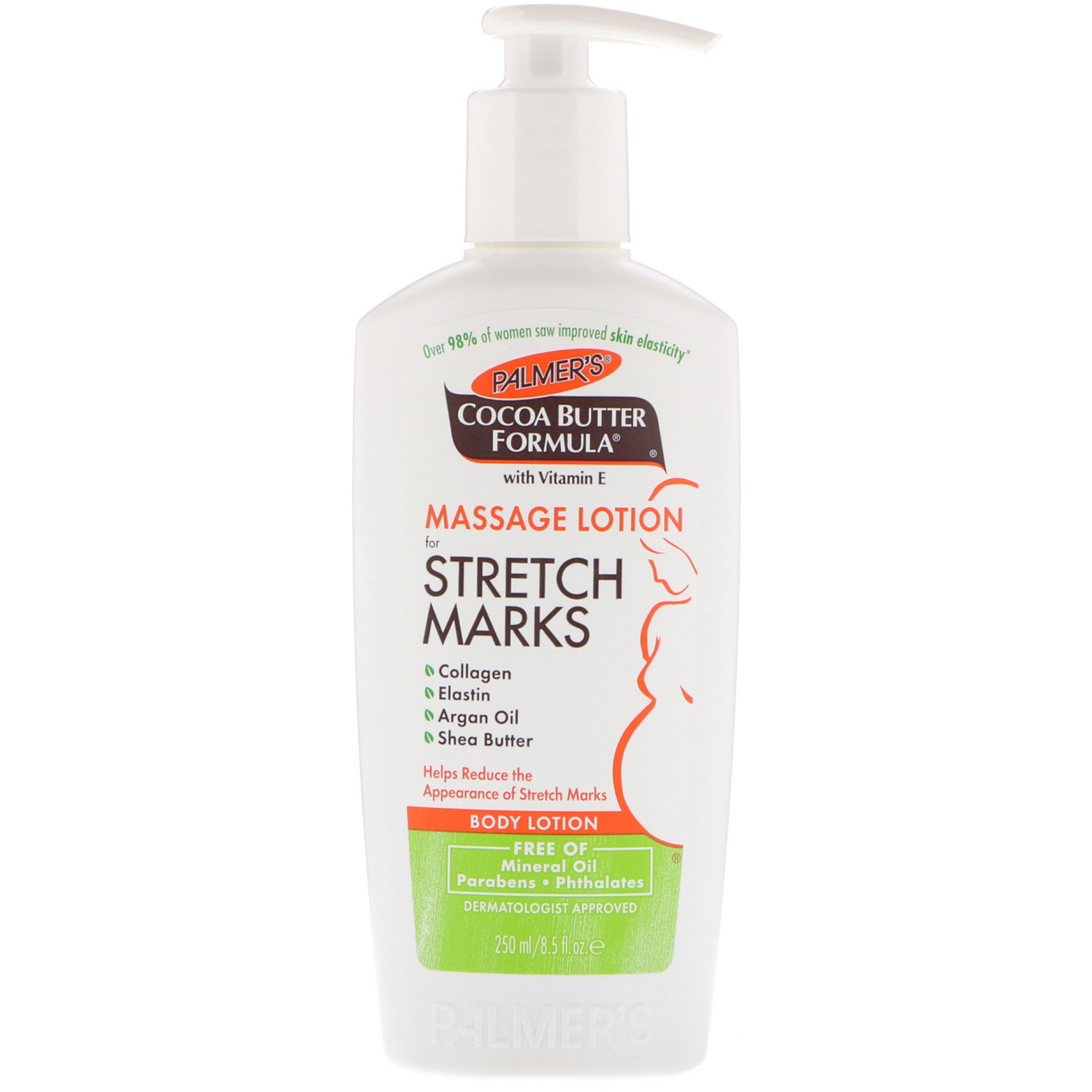 Read review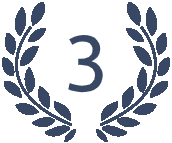 Bio-Oil's Skincare Oil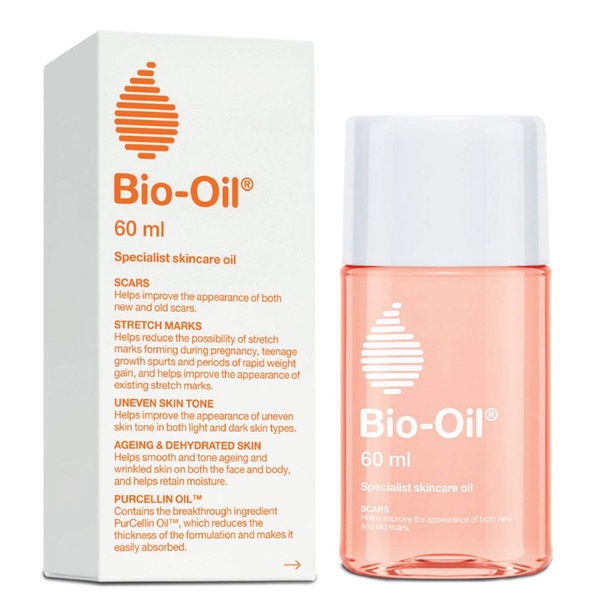 Read review
Read the Full Guide