Best Stretch Mark Cream Buying Guide [Update: 2022/2023]
Stretch Marks affect 80% of Americans and appear due to fluctuations in weight, pregnancy, or even growth spurts. Contrary to popular belief combatting the formation of these finicky buggers is possible and to make it even easier we have created this buying guide to summarize the best stretch mark creams available. 
We know you're busy so we've taken out the guesswork and are offering our top picks. With that said, here are the products you want to know about. 
Our Top Picks
| | | | | | |
| --- | --- | --- | --- | --- | --- |
| | Maelys B-Flat | Palmers | Bio-Oil | Mederma | Tummy Rub Butter |
| Price | $$$$ | $ | $$ | $$ | $$$ |
| Volume | 3.38oz | 4.4oz | 4.2oz | 5.29oz | 4.06oz |
| Usage | 2x daily | 2x daily | 2x daily  | 2x daily  | 2x daily  |
| Main Ingredient | Body³ Complex™ | Cocoa Butter | Vitamin A | Cepalin | Omega Rich Skin Stretch Complex |
| Best For | Bellies | Moisturizing | Skin Elasticity  | Combatting Existing Scars  | Baby Bumps |
| Results | 0-8 weeks | 2-8 weeks  | 6-12 weeks | 4 – 12 Weeks | 9-12 months |
| | read review | read review | read review | read review | read review |
| | Buy Now | Buy Now | Buy Now | Buy Now | Buy Now |
What do we know about Stretch Marks in 2022/2023?
Stretch Marks are small lines or markings on the skin that appear due to the stretching of the dermis. In the medical community, these buggers are called Striae and are a type of scarring that typically form in parallel lines and a variety of colors. 
Should I be worried about Stretch Marks?
They commonly occur during puberty, pregnancy, or large weight fluctuations where the skin needs to grow quickly to accommodate these changes. Stretch Marks are a hereditary feature – if your parent has stretch marks it is highly likely that you are prone to them as well. Those with fair skin are more susceptible and a larger percentage of females have them compared to males. 
People taking corticosteroid medications (common for people with allergies) are more susceptible to developing stretch marks as these creams limit the skin's elasticity. Lastly, some genetic disorders make it more likely to develop stretch marks. 
Stretch Mark Creams – How do they work? 
Stretch mark creams focus on increasing the moisture content of skin as dry skin is more likely to crack when stretching. Another common method is products that assist in making skin more elastic allowing for the skin to more easily accommodate a growing belly bump, random growth spurt, or large fluctuations in weight. 
Some methods contain ingredients to increase blood circulation or strengthen the skin as these are believed to help avoid the formation of scars. Ingredients such as vitamin E, Cepalin, and Hyaluronic Acid are ingredients that have gone through many clinical trials and many companies claim can assist in decreasing the appearance of scars of existing scars.
The 2022/2023 Stretch Mark Creams You need to Know About 
#1
Maelys Cosmetics B-Flat Stretch Marks Cream
*Best for firming, tightening, and reducing cellulite as well as scars on bellies
Made for bellies of all colors, shapes, and sizes – B Flat consists of innovative ingredients to promote cellulite reduction, increase moisture content, firm skin, and reduces the appearance of scars. Made with only clinically proven ingredients women are raving about this product. Utilizing avocado extract, coconut oil, Vitamin E, and hyaluronic acid – this belly firming cream works by regenerating cells to increase skin thickness as well as lessen stretch mark depression making them less visible.
Maelys Cosmetics B-Flat cream firm's skin almost instantly and scars are visibly reduced after a mere matter of weeks. Use twice daily on the belly region and make sure to massage the lotion into the skin until it is fully absorbed as the massaging process has been clinically proven to assist in reducing stretch mark appearance. B Flat is not safe for pregnant or breastfeeding women and a 4 hour wait time is suggested between application and sun exposure. 
 3000 reviewers are raving about the benefits of this belly firming cream! The verdict is in and B-flat cream really helps to tighten and tone so you are finally truly comfortable in your own skin – on the beach or your couch.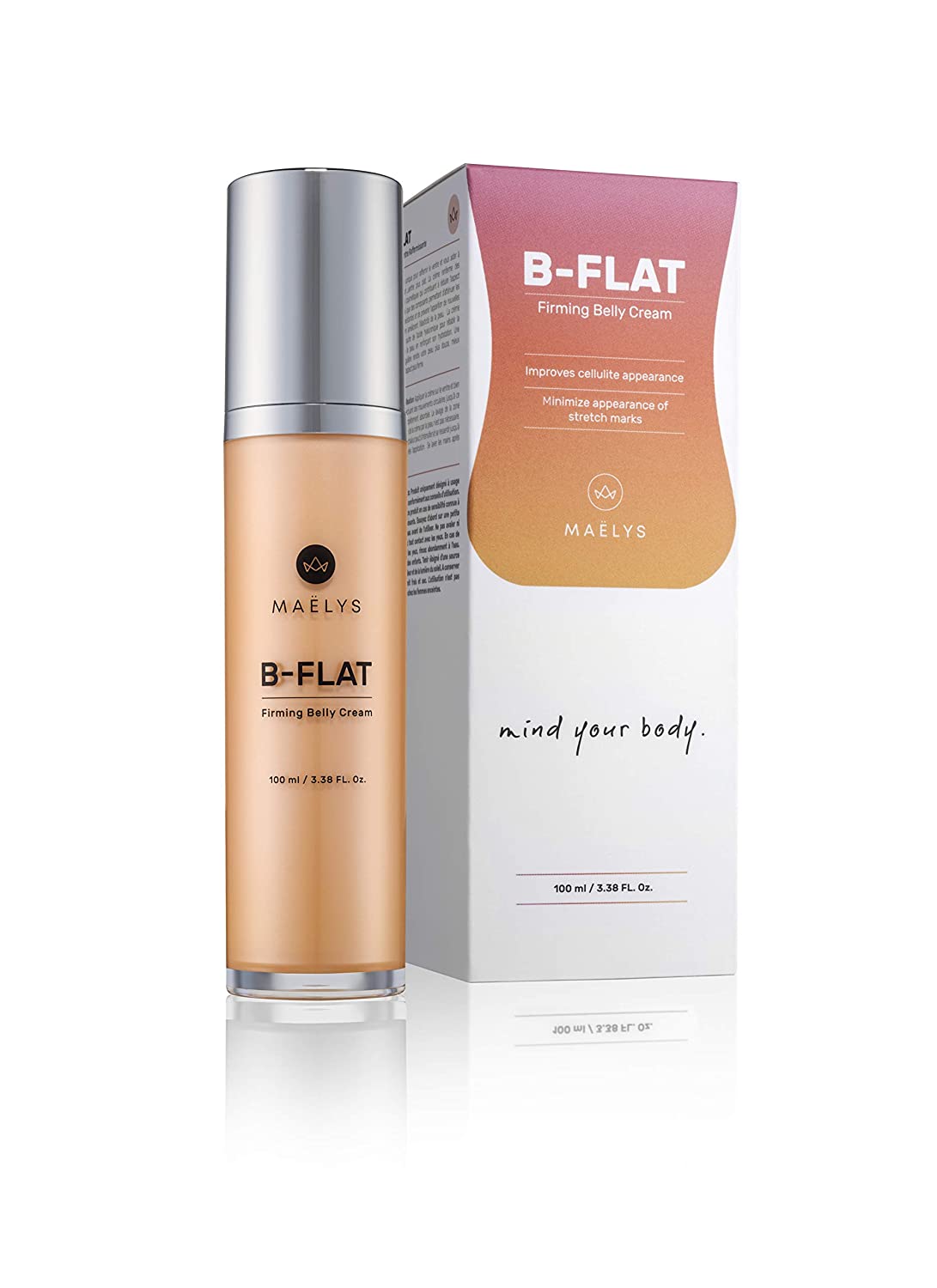 Pro's:
Instant results

large bottle 

work's on existing scars 

helps reduce the appearance of cellulite 
Con's:
Cannot be used when pregnant or breastfeeding

Tingly sensation can be bothersome

May feel itchy 
#2
Palmer's Massage Lotion for Stretch Marks
Best for all-around moisturizing lotion
Palmer's Massage Lotion for stretch marks was created to moisturize the skin with its coconut butter formula – an ingredient known for its hydrating properties. This Amazon bestseller is raved about for its bang for your buck and its ability to moisturize the skin for a full 48 hours. It contains many natural butters, oils, and ingredients that are all hypoallergenic and free of mineral oils. It is safe for pregnant and breastfeeding mothers and can be used for all skin types, including sensitive skin. 
It is best for combatting the creation of new scars but does little to help reduce the appearance of older markings. Apparently, different versions of the product are out there with some Amazon users saying when reordering, the formula had been completely changed. These different bottles had a thick, non-absorbing and bad-smelling version even though Palmer's has claimed they have not changed the formula at all. Purchase Palmer's from a reputable dealer and with their full refund policy, this seems to be an easy fix.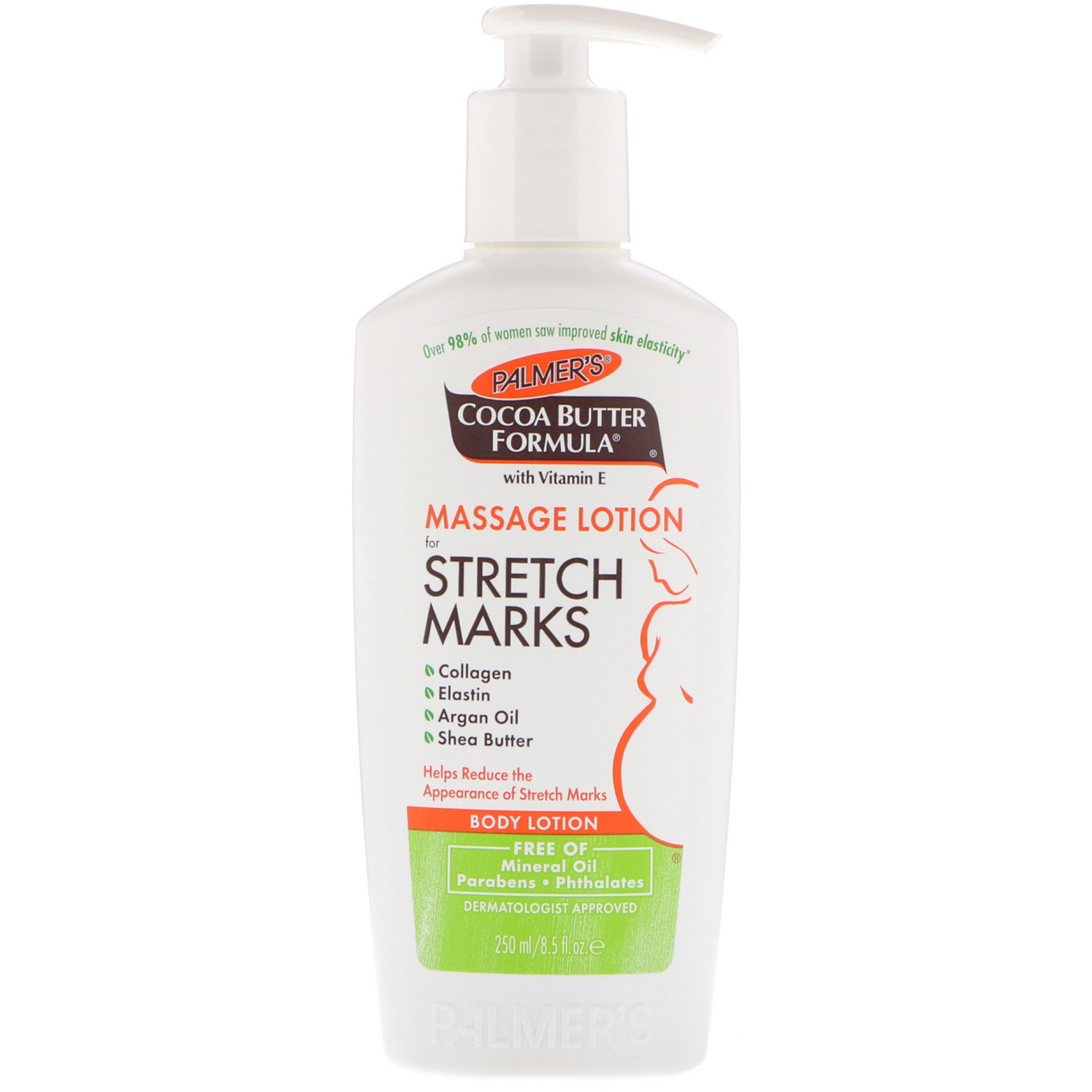 Pro's:
48 hours of hydration

Safe for all skin types as well as women pregnant or breastfeeding

Full-body lotion

Helps combat the formation of stretch marks
Con's:
Inconsistent formula

Can cause breakouts and rashes

Does not work on old markings 
#3
Bio-Oil's Skincare Oil
Best for increasing skin elasticity
A full-body oil, Bio-Oils Skincare oil was created to help with stretch marks, scars while healing the skin to better uneven skin tones and markings by increasing skin elasticity. Created for dry skin this product has over 400 skincare awards and can be used on your entire body. Results can be seen in 2 weeks but for best results, a minimum of three months is recommended. 
The Bio-oil skincare oil formula consists of Vitamin A, E as well as rosemary, lavender, calendula, chamomile, and purCellin oils to lessen the appearance of markings while assisting in healing damaged skin. It is safe for all skin types, is dermatologist recommended and can be used by pregnant women after the second trimester.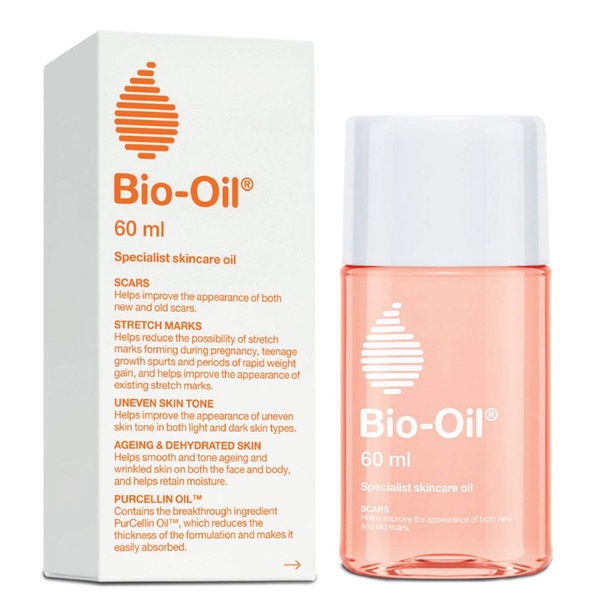 Pro's:
Can be used on the entire body

Hypoallergenic

Increases skin elasticity

A small drop can go a long way
Con's:
Can be harmful on open wounds

Irritating to some

May cause issues with oily skin

Best results after 3 full months of use
#4
Mederma Stretch Marks Therapy
Best for combatting scars
The Mederma brand was created to reduce the appearance of existing scars for everyone in the family. Merdema's Stretch Mark Therapy is based on their line of Cepalin based products – an antioxidant and botanical extract that Mederma has proven in clinical trials to assist in scar formation and combatting existing scars. Their gel-based formula battles the texture and color of markings to visibly reduce their appearance. 
Mederma Stretch Marks Therapy is Doctor and Pharmacist recommended and can be used by pregnant women after the second trimester and afterward while breastfeeding. It takes between four to twelve weeks to see results when used twice daily. Their product promises to increase skin moisture content and help with blood circulation. The scent of Mederma's Stretch Mark Therapy can be fairly strong and maybe bothersome and, in some cases, made skin flaky.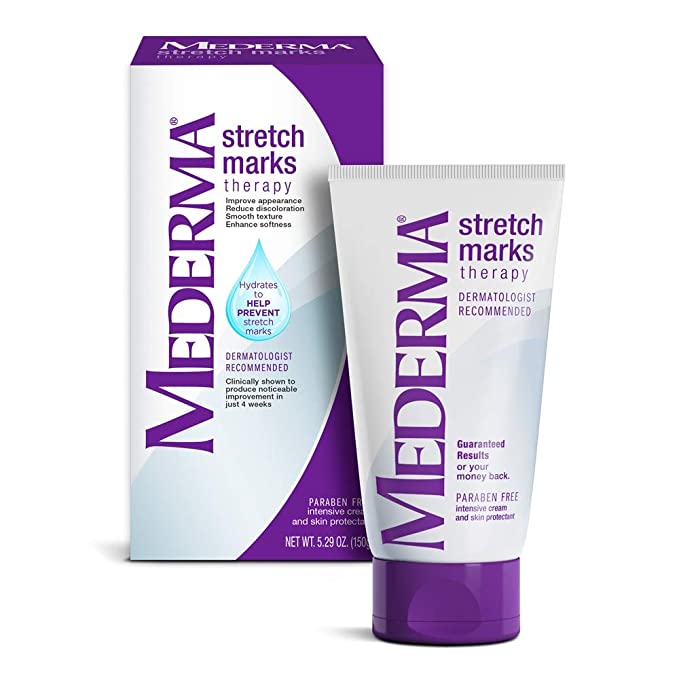 Pro's:
Helps with existing stretch marks and the creation of new markings

Can be used on all parts of the body

Increases blood circulation

Moisturizing formula 
Con's
Strong scent

Must be used for a long time to see results

Takes a long time to absorb 
#5
Mama Mio's Tummy Rub Butter
Best for pregnant and breastfeeding women to help accommodate that baby bump
Tummy Rub Butter was made for new and expecting mommies by four moms who realized no products were made for their specific needs. Mamma Mio's brand takes into account not only the safety of unborn and newborn babies but also mom's increased sensitivity while helping with her itchy belly. 
Mamma Mio's Tummy Butter is the answer – safe for women in all stages of pregnancy boasting a natural scent and helping to saturate the dry, stretched out skin. It assists in reducing the formation of stretch marks by hydrating the skin and increasing skin elasticity to help your tummy grow and bounce back after birth. The non-greasy formula consists of natural ingredients including shea butter, coconut oil, almond oil, vitamin E, and an all-natural fragrance. Mothers rave about this product as the go-to solution for your growing belly bump.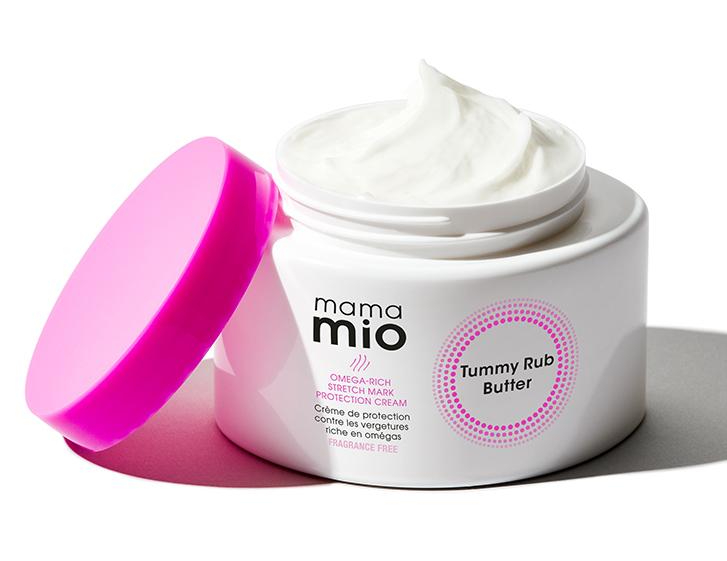 Pro's
Safe for moms-to-be

Can be used on the entire torso

Moisturizes for 24 hours

Helps with the baby-belly itch 
Con's
Must be used for the entire pregnancy and continued after for full results

Does not work well on pre-existing stretch marks or c-section scars

Natural scent can be bothersome. 
Dark Stretch Marks
Dark stretch marks are new which can range from dark blue, red, pink, purple, brown, or even silver. Overtime they normally fade to a whitish color. Stretch Marks are referred to as scars for a reason, they will never go away completely but do fade over time. Stretch marks are commonly found on your tummy, chest, upper arms, legs, bums, hips, or back. 
Ways to Stop Stretch Marks from Appearing 
Creams, oils, and gels can be used to help mitigate the formation of stretch marks especially for those uncontrollable, quick stretches to your skin. If you are pregnant or going through puberty – here are six ways to help avoid the formation of stretch marks: 
Watch your diet and exercise – weight fluctuations is one of the main culprits.

Stay Hydrated by drink lots of water 

Keep Skin moisturized – use products to help with skin hydration as moisturized skin is more elastic and less likely to crack or stretch. Hyaluronic acid is a popular choice as it is found within the skin connective tissues to help keep skin lubricated and moisturized. 

Eat Omega-3 fatty acids to increase skin suppleness 

Gain an appropriate amount of weight during pregnancy

Find products with collagen – a protein known to increase skin elasticity as is it a protein found in your skin's connective tissues
What to do once you find Stretch Marks
Treat stretch marks as soon as they are visible – it is almost impossible to treat old scars. Use a product like the ones above to nip them in the bud, quickly and efficiently. Or check out our winner… 
Best Oils for Stretch Marks
To combat existing stretch marks a variety of oils can be used with many of the products mentioned above containing their own combination of each. Oils that can assist include: 
Argan Oil, Almond Oil, Coconut Oil, Rosemary Oil, Lavender Oil, Calendula Oil, Chamomile Oil, PurCellin Oil. If you have oily or sensitive skin, we would suggest testing the product before smothering it all over you as some women have broken out in acne or rashes. 
The Stretch Mark Tanning Myth
Contrary to popular belief tanning does not help to hide their appearance but makes them more prominent. As you cannot tan the markings – tanning makes the contrast between them and your skin more prominent. Some people have admitted to using a self-tanner on the marks as this will decrease their visibility for a short period. 
What your Doctor or Plastic Surgeon can Offer: 
Some doctors offer microdermabrasion treatments that remove a layer of skin to help with stretch mark appearance. Other methods include laser or light treatments which also remove the top/outer layer of the skin but during these procedures, the beams are used to also encourage the new growth of skin as well. Both methods are costly and will not entirely remove these scars but can help reduce their visibility. 
Avoid Retinoids When Combatting Pregnancy Stretch Marks:
Many products that claim to combat the appearance of stretch marks contain Vitamin A and other Retinoids. Retinoids are widely known for assisting in the formation and care of many skin markings such as stretch marks, wrinkles, scars, skin tone variations, and the like. Studies have shown that the oral consumption of retinoids has been linked to birth defects. It is recommended to avoid these products in their entirety while pregnant. 
Our Stretch Mark Winner
The only way to avoid the formation of stretch marks is to keep your skin moisturized, supple, and to help increase its elasticity. Our top pick for combatting stretch marks is Maelys B FLAT cream. With its clinical trials, thousands of reviews and overwhelmingly positive results this cream helps with everything your skin needs to feel and looks its best. 
Maelys B-Flat lotion is paraben and sulfate-free as well as gluten and cruelty-free. Results can be seen almost instantly and for best results at least one month is suggested. Best part! Maelys is so confident in their B FLAT product that they offer a 100% refund or exchange if you are not satisfied.
#1
Maelys Cosmetics B-Flat Belly Firming Cream
*Best for firming, tightening, and reducing cellulite as well as scars on bellies