Best Belly Firming Cream [Top 5 Creams For 2022/2023]
Cellulite and saggy skin across your belly are common concerns for all women. Whether it's due to a recent weight loss, aging skin, puberty, or post-pregnancy, you are probably looking for a fast and easy way to firm your tummy.
With so many brands and types of belly firming creams available today, narrowing down the best belly firming cream for you can feel like an impossible task. What makes the process even more difficult is that many belly firming cream manufacturers sell products that are not as effective as they claim to be. 
Instead of guessing or going through an expensive and time-consuming trial and error process -we've rounded up a list of the top belly firming creams that reviewers are recommending most. Take comfort in knowing that the following products listed below are truly the best the market has to offer and get ready to firm, lift, and tighten your belly with ease!
| | | | | | |
| --- | --- | --- | --- | --- | --- |
| | Maelys B-Flat | Bio-Oil | Palmers | Mederma | Tummy Rub Butter |
| Price | $$$$ | $$ | $ | $$ | $$$ |
| Volume | 3.38oz | 4.2oz | 4.4oz | 5.29oz | 4.06oz |
| Usage | 2x daily | 2x daily | 2x daily  | 2x daily  | 2x daily  |
| Main Ingredient | Body³ Complex™ | Vitamin A | Cocoa Butter | Cepalin | Omega Rich Skin Stretch Complex |
| Best For | Bellies | Skin Elasticity  | Moisturizing | Combatting Existing Scars  | Baby Bumps |
| Results | 0-8 weeks | 6-12 weeks | 2-8 weeks  | 4 – 12 Weeks | 9-12 months |
| | read review | read review | read review | read review | read review |
| | Buy Now | Buy Now | Buy Now | Buy Now | Buy Now |
Firming Your Belly in 2022/2023
A soft belly can be caused by a variety of factors including weight gain, stress, diet, and of course pregnancy. One way to combat a soft belly and see results is to adopt the proper diet, start an exercise regimen, finally begin sleeping properly, and by reducing the amount of stress in your life. Now we at RewindGuide get it, yes, in a perfect world this would already be the case, but if you're like the majority of us, this is a seemingly impossible feat. 
We have some truly disciplined people around us, those of us who can recreate our schedules and make life-altering changes but unfortunately still fail to see their desired results. Regardless if you are the former or the latter, there are products out there that utilize science, nature, and rigorous testing to get you that firmer belly you desire, all from a bottle.  
How do Belly Firming Creams work? 
Belly firming creams use a combination of ingredients that offer a variety of benefits to assist in tightening the skin around the belly area. These ingredients work through a mixture of anti-aging and moisturizing attributes while providing preventative properties. Many work by focusing on increasing the skin's elastin content helping restore the reserves which depreciate over time. 
The Ingredients You Want to Know About 
Ingredients can be confusing and frustrating to decipher and it is even more difficult to understand the benefits they can provide. We've taken it upon ourselves to give you a breakdown of the ingredients you want to know about and how they help firm your belly to put the information you want to know about in your hands! 
So let's start with caffeine. We are not talking about drinking your morning coffee but more about the benefits of caffeine for your skin. Caffeine is known for its ability to dehydrate fat cells, works as an incredible antioxidant, and helps make skin appear more supple. 
Hyaluronic Acid is another important contributor – it is a naturally produced substance that again, sadly, depreciates as we get older. Hyaluronic Acid is found throughout our skin, connective tissues, and joints with the main function of helping our bodies retain moisture. Moisture is a huge factor in the appearance of your skin so with the continuous replenishing of moisture you are able to combat scars, stretch marks, cellulite, and more. Moisturizing properties help skin appear more supple, firm, and tone.
Coconut Oil offers numerous benefits and is found throughout skin, hair, teeth, and diet solutions. It can do everything from suppressing your appetite to encouraging fat burning in the body and on your skin. 
Collagen is your new best friend, Collagen is known as the skin's building blocks and is found throughout all of your organs. It has skin rejuvenating properties and helps increase skin firmness while offering those sought out anti-aging attributes that we all strive for in one way or another. 
Now we have Retinol. Get to know this word – you'll thank us later. Retinol helps to increase the generation of collagen in the skin. It assists in improving the skin's tone, appearance, and smooths out surfaces combatting pigmentation while also increasing the skin elasticity. Elastin production is what is going to help your skin 'bounce back' and isn't that what we are all looking for? 
Belly hanging is common, more common than you think and you are not alone. Women are flocking to find the right product that works for them and can help them combat that hangy skin. So without further ado, here is our list of the top 5 belly firming creams you need to know about. 
#1
Maelys Cosmetics B-Flat Belly Firming Cream
* Best belly firming cream
An ultra-revolutionary belly cream that is crafted with the intent of belly firming, lessening the appearance of cellulite and scars on bellies. Maelys B FLAT is loved for its advanced skincare technologies and fast-effective formulas. Utilizing clinically proven ingredients like ink PepperSlim™- a patented ingredient that encourages fat burn and Bentonite which boosts belly fat burn, tightening skin, and reduces the look of stretch marks.  
Made with guarana seed extract, avocado extract, coconut oil – this belly firming cream uses unique plant extract that stimulates blood flow, encouraging skin rejuvenation and regenerating cells to lessen stretch-mark visibility. This belly firming cream has some incredible reviews for its belly firming capabilities with women raving about its effectiveness and how a little can go a long way.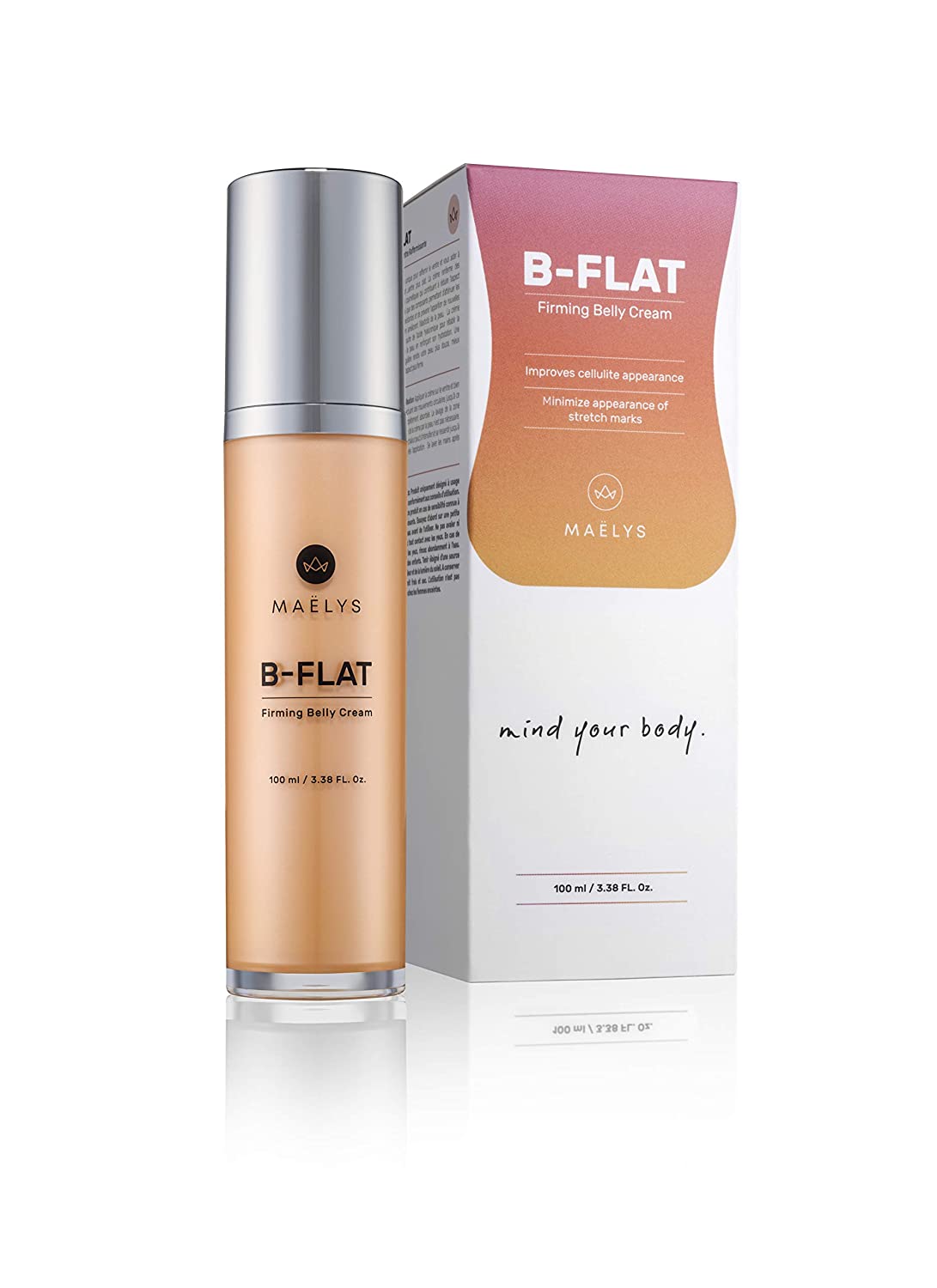 Pro's:
Specifically formulated to firm bellies

Fat burning, tingly sensation upon contact with skin 

Made in the USA

Cruelty-Free
Con's:
Not recommended to be used during pregnancy or while breastfeeding

Four hour wait time between application and sun exposure
#2
Bio-Oil's Skincare Oil
Reduce the appearance of scars and stretch marks
Packed with skin-loving ingredients like lavender oil, rosemary oil, chamomile oil, and vitamins A and E this little bottle helps increase skin elasticity, promote the formation of new collagen and make skin softer, smoother, and more supple. It also supplements the skin's natural moisture-retaining oil layer, which is often stripped by a dry climate, hot showers, or air conditioning. 
Formulated with plant extracts and vitamins suspended in an oil base will allow for your body to absorb the oils quickly and if you're prone to breakouts, simpy apply only a dime-sized amount, rubbing the oil between your palms and lightly patting the skin.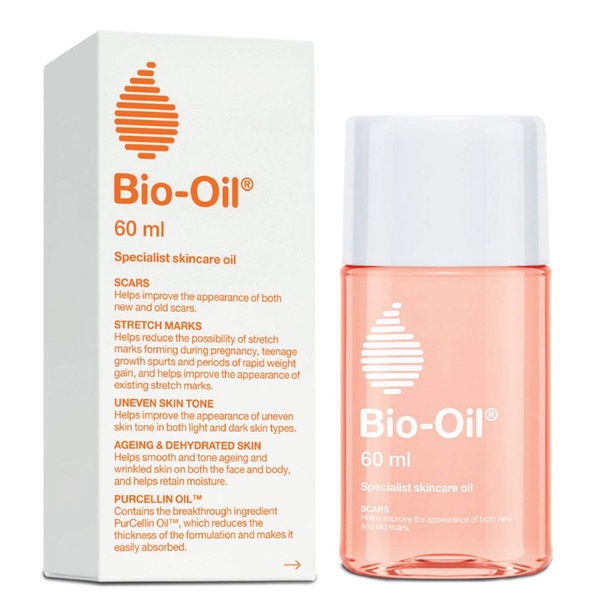 Pro's:
Easy to use

Multi-use skin oil

Hypo-allergenic 
Con's:
May not be suitable for oily skin

Greasy to the touch

Some users did not like the smell
#3
Palmer's Massage Lotion for Stretch Marks
Moisturizes and soothes skin
This thick and creamy cocoa buttercream is known for immediate hydration and long-lasting moisture. Cocoa butter, collagen, elastin, and Lutin are combined to help visibly improve skin elasticity and minimize the appearance of stretch marks. 
It has a very dense formula which might take a little bit of extra time to rub in completely, but once you do – your skin will feel great! Palmer's Massage Lotion formula helps smooth and calm sun-exposed skin and is also enriched with monoi and sweet almond oil which provides deep moisturization and softens skin. Sure enough, it has a pleasant, sweet coconuty scent.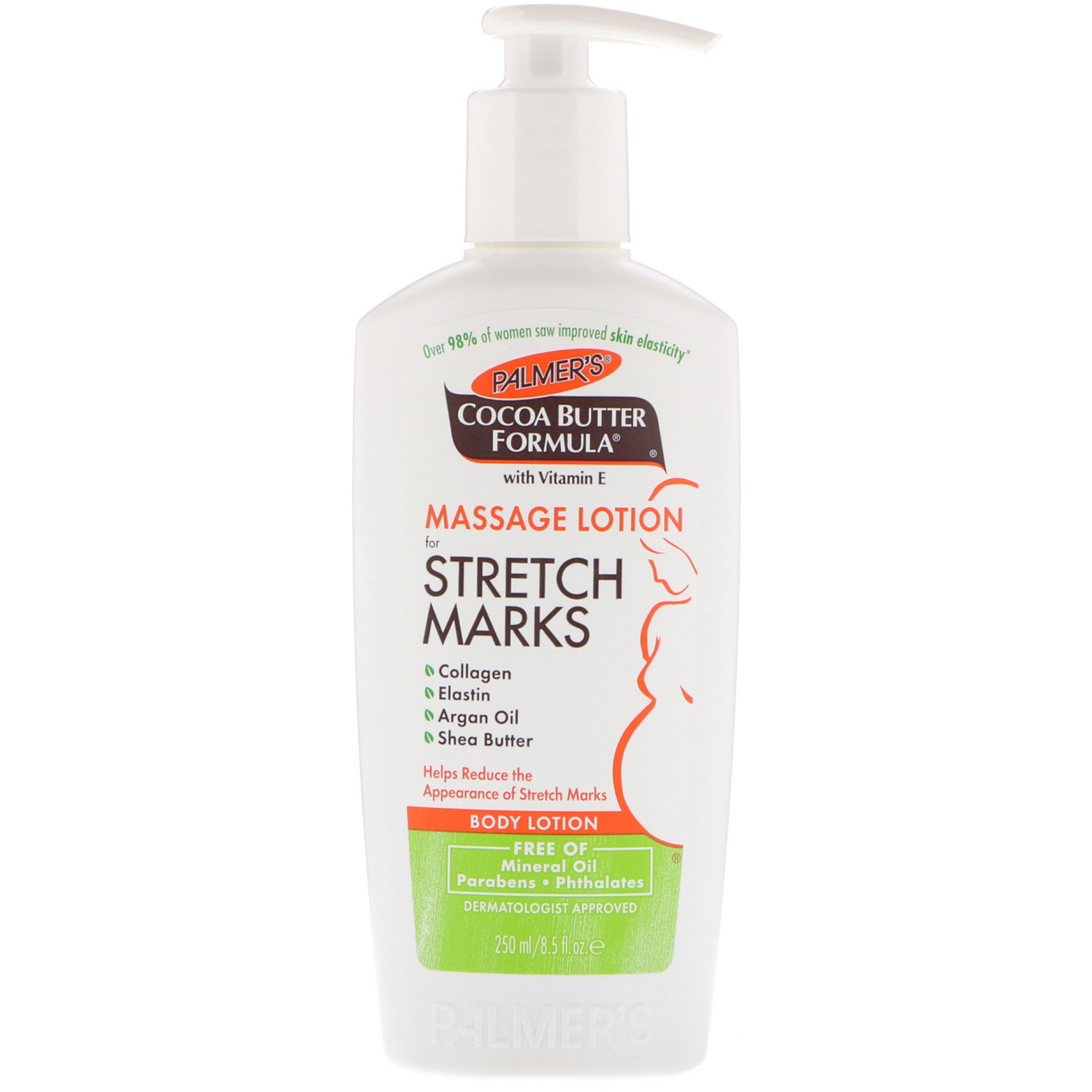 Pro's:
Can be used during pregnancy

Works to improve the appearance of new and old stretch marks 

Lubricates the skin with its moisturizing properties
Con's:
May cause irritation on sensitive skin

Some found difficulties using the pump bottle

No unique ingredients 
#4
Mederma Stretch Marks Therapy
Helps reduce the appearance of old and new scars
Mederma Stretch Marks Therapy is a quality, lightweight cream that smoothes the skin by replenishing moisture to reduce the overall appearance of stretch marks and leave your skin feeling hydrated. This once-daily treatment visibly reduces the appearance of many types of scars old and new, including surgery scars, scars from burns, cuts, and acne scars as well. 
Mederma Stretch Marks Therapy combines botanical ingredients like Cepalin botanical extract, Hyaluronic Acid, and Centella Asiatica in a nourishing formula that hydrates the skin to reduce the appearance of scars and stretch marks. It's worth noting that this rich infused cream has quite an intense fruity floral fragrance. The smell isn't necessarily unpleasant, but it does linger, and could cause irritation for people with scent sensitivities.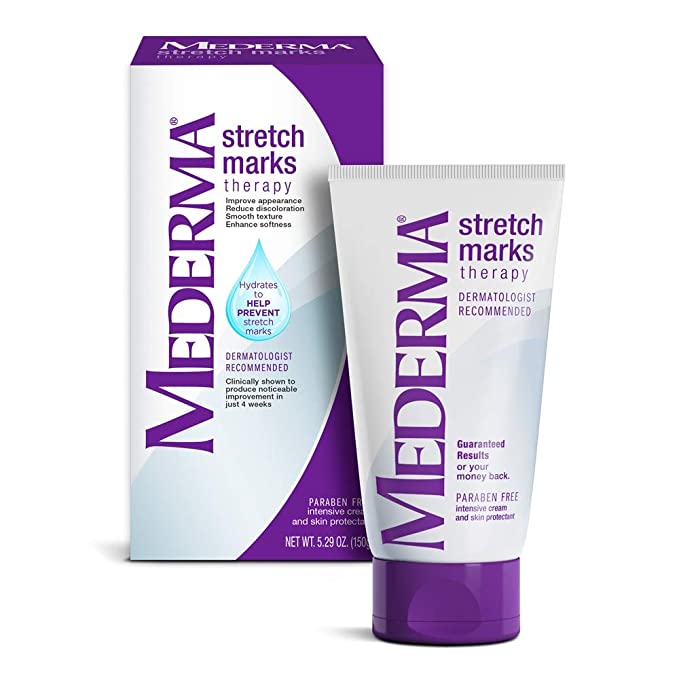 Pro's:
Reduce discoloration 

Smooth uneven texture

Improve the appearance of existing stretch marks 
Con's
Some ingredients may have side effects

Small container

Strong smell
#5
Mama Mio's Tummy Rub Butter
Stretch mark protection cream
Founded by four moms who developed Tummy Rub Butter for new and expecting mothers. This rich butter is intended to be used before, during, and after pregnancy, while also relieving mom's increased sensitivity with itchy bellies while pregnant. 
It has a cool feel and pleasant scent that is easy to rub and you don't have to worry about staining your clothes with residue as it is absorbed quickly. Its benefits also reach those who struggle with hormonal changes to the body and dull skin. Packed with omega fatty acids, organic oils, and antioxidant benefits this rub butter will leave your pregnant belly soft and smooth.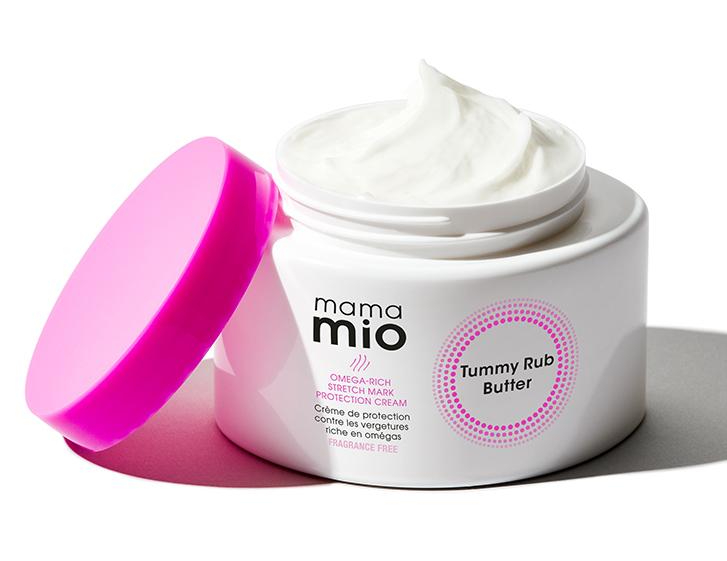 Pro's
Safe for moms-to-be

Can be used on the entire torso

Moisturizes for 24 hours

Helps with the baby-belly itch 
Con's
Only works as a prevention for new stretch marks

Must use during and after pregnancy to see full results 

Does not firm skin 
What to Look For In the Right Belly Firming Product 
When you are looking for a belly firming cream to combat that saggy skin you want to look for products that mention they should be used daily. Any creams or lotions that promise results without daily applications are probably too good to be true. Skin requires hydration at least every 24 hours and even the best moisturizers require application daily. 
Why? Your skin can dry out very quickly. This is one of the main causes of skin being unable to bounce back and the main cause of that hangy skin you dread. So begin your search ensuring the instructions are aligned with the knowledge you've gathered from here! 
The Vitamins You Want to Know About For Your Belly Firming Cream 
Vitamins! This may seem straightforward but the right vitamins can truly assist in combatting and reversing that unwanted saggy skin. Here are the vitamins you want to look for and of course, why. 
Vitamin E is an antioxidant known for its ability to help with scar prevention and reducing the appearance of existing markings. Popular for its immune system boosting attributes, vitamin E helps defend against infections, illness and improves the appearance of skin by slowing the aging process. 
Vitamin C is a vitamin known for its ability to help your collagen stores as well as providing antioxidant benefits to protect you from radicals. Vitamin C also contains properties to speed up the healing of bruises, sores and other inconsistencies that affect the skin.
Vitamin K is another important addition to your belly firming cream search – vitamin K is known for its incredible results in anti-aging products. Vitamin K offers a variety of benefits including minimizing scars, reducing the appearance of stretch marks, helping combat spider veins, and giving that skin an overall youthful surface. 
Who is the Winner of The Best Belly Firming Cream?
The results are in and the winner of the Best Belly Firming Cream is Miley's B-FLAT! With its extensive positive reviews and clinically-proven ingredients, this belly firming guru will get you that tummy you desire in record time. With the average product taking weeks if not months to offer results, women who have used the product claim a positive, instant outcome with the average reviewer guaranteeing a visible difference in a mere 2 weeks.    
Maelys B-Flat contains powerful active ingredients that firm the belly, reduce the appearance of scars, and provides a tingly sensation as evidence of the cream working. Only requiring a small amount, the bottle lasts a long time and as time progresses you can reduce the amount you are using. 
It is safe to use for any skin type or age but beware that you should not use the product when pregnant or breastfeeding. The paraben-free and sulfate-free solution is not only cruelty-free but gluten-free as well, covering all your bases and guaranteeing that well researched, highly sought out product the belly firming world has been waiting for! Last but not least, Maelys offers a 100% refund so if you are not completely satisfied with their product you can return it! With nothing to lose… What are you waiting for? Get Maelys Cosmetics B-Flat, learn what all the hype was about, and finally see the results you've always wanted.